The Evolution of the Armenian Alphabet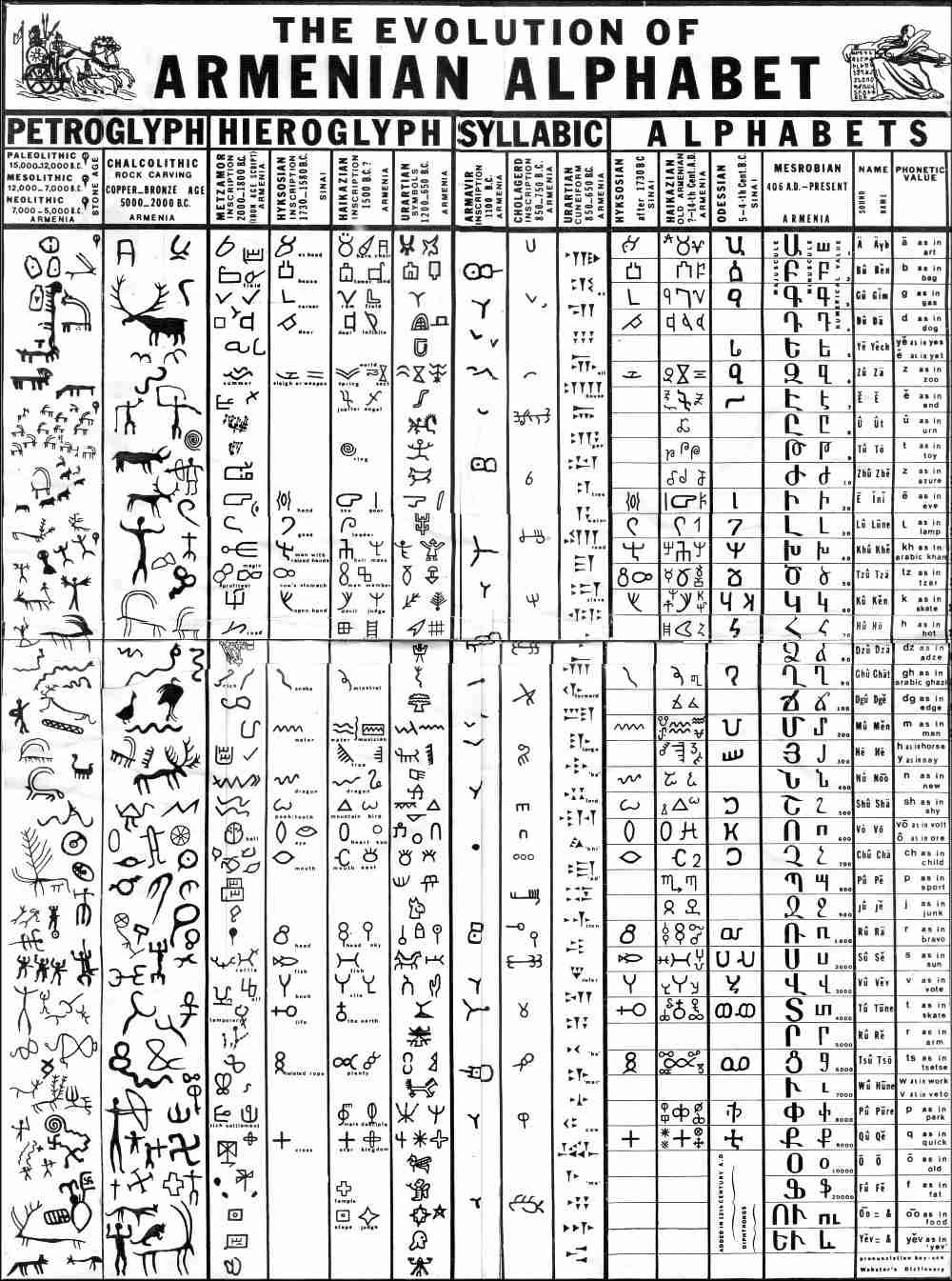 The Art of Writing
Strange markings on a hillside curiously match the eloquent letters on parchment. The graceful arch of vowels and consonants devised in the 4th century CE are echoed in carvings showing the sun, moon, and the exact locations of constellations from the zodiac. Our guide smiles, and astonishingly covers 20,000 years of writing in a single sentence, "From stone to paper, you can find the curve of our people in a single path. Most people think the Armenian letters began with Mashtots in 406 CE.
But look here, and you will find a divine inspiration 19,000 years before then." Beginning from astral symbols found on the Geghama Lehr (Mountain Range) between Sevan and the Ararat Plain, including the signs of the Zodiac and star positions at Karahundj and Metsamor; to Vishaps, obelisks covered with cuneiform and pictograms, the Armenian language has its roots. From the heart of Noah to the furthest stretches of Mesopotamia, India and Europe, it spread to encompass most of the Old World. The guide points to controversy and historical fact, to scientific research and popular myth as he gathers energy with his argument. "The glories of manuscript art have their ancestors, just as we do and if you want to believe that the center of language and culture came from this part of the world, then you can't also believe the Armenian's were illiterate at the same time. There is a source, and it came before the Mashtots Script."

Beyond stone carvings (called "pictograms", since they represented ideas through pictures, as opposed to an alphabet, which captures sounds and is used to create words and sentences to express ideas), there is very little to suggest what a native language was like in Armenia between the Paleolithic and Urartian periods. Detailed maps showing ancient fortified towns and roads that exist to this day are scrawled on the sides of stone foundations, as are complex trigonometry and geometric formulas pointing to astral, solar and lunar phases. The inscriptions even include one of the first calendars and compasses ever created. The Metsamorians and their ancestors were the earliest known civilization to forge copper, bronze and iron, they created a pantheon of gods that foreshadow the Greek pantheon. Having one of the greatest cultures of the Bronze Age (the "Metsamor Kingdom"), Ancestral Armenians curiously left no written words behind.
Emma Khanzatian, director of excavations at Metsamor, and the Grande Dame of archeology in Armenia, does not find a missing language all that curious.
"It is impossible to have a culture this advanced with no written language," Ms. Khanzatian says. "Just impossible. They were among the leaders in the known world at that time in science, industry and trade. Metsamor era artifacts are found in Egypt, Syria, Persia, India and Central Asia. Their distinct black and geometric pottery made its way to Mycenae, they may even have created the wheel. They knew trigonometry, astronomy and geomtetry--you can have none of these sciences without notation, the forms of writing. How could they leave nothing in writing behind?"
Part of how is shown by several strata of excavations at Metsamor and other ancient cities. Black, charred earth, pottery and skeletons lie in heaps in several layers from the middle Bronze and early Iron Age. Sieges and burnt earth policy began far before recent memory. If anything like parchment was created along with spectacular bronze and gold objects uncovered at Metsamor, AdaBlur, Jerahovit and MokhraBlur, it was surely burned along with the population. More recent layers of excavation show continued sieges and burning in the common era, including a 4th century layer that was a result of struggle between Pagan and Christian armies. It is not until the Urartian period (ca. 1300-550 BC) that a written language has been found and that was borrowed from Sumerians and Assyrians. Stone was the preferred medium of expression, though there is some proof that wood and leather parchment were used along with clay tablets in Mesopotamia and Egypt. But other than signs of zodiac, maps and geometric equations, no signs of writing from the Metsamor period have been uncovered.
Khanzatian smiles and nods her head towards a central mound at Metsamor. "We haven't begun to uncover what lies beneath this ground. And just think what must be under a city as old as Jerahovit or Aigeshat. Just because we haven't found it doesn't mean it isn't there." A wizened face carved from years of excavating the windswept earth on the Ararat plain laughs and points to the central mound. "And somewhere under the main citadel lies a treasure as important as any gold artifact the archive."
Source: http://www.tacentral.com/manuscripts_minia...s/writing1.html
Petroglyphs From Armenia, 9000-3000 BCE
Before hieroglyphic writing was developed, between 9000 and 7000 BCE, people of the Armenian region expressed themselves by carving and painting designs on rocks. These three pictographs (see source link) were executed between the 8th and 4th millenia BCE, (9000 to 3000 BCE). According to archaelogists, the drawings are associated with Neolithic cultures, especially in the higher mountain regions (Aragats and Aghmaghan and the basin of Lake Sevan). Around 3000 B.C.E., the Proto-Indo-European family of languages was probably closely unified, but by 2000 B.C.E., Greek and two extinct languages, Hittite and Sanskrit, were distinct languages. Though changes in grammar and meaning have taken place, analysis of vocabulary indicates that the people of the ancient Indo-European culture were metal-using farmers tending domestic animals. Recent discoveries suggest links to the Kurgan people, who lived on the steppes west of the Ural Mountains. In the Kingdom of Van, 810 BCE, inscriptions of economic and sacrificial nature were written in hieroglyphics. Specimens of Armenian hieroglyphics are also evident in Urartean excavations at Karmir-Blur, where pottery, bronze cups and cylinder seals were found. This type of writing was used by peoples living on the Ararat Plain, even before the penetration of the Urartian tribes, according to excavations at Cholagerd.
Source: http://images.google.com/imgres?imgurl=htt...6lr%3D%26sa%3DN